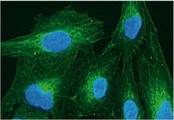 : Diabetic Nephropathy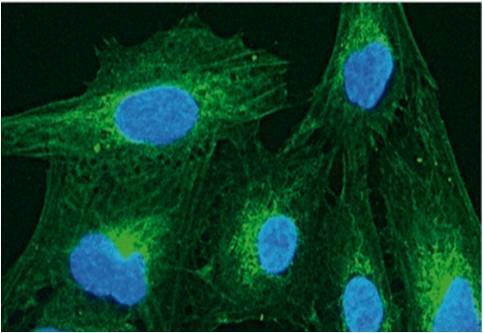 Activity

Gabriella Gruden and the scientists and students working in her Lab are devoted to the study of the cellular and molecular mechanisms implicated in the both the onset and the progression of diabetic nephropathy. Our goal is to identify new targets for therapeutic intervention and discover novel biomarkers for early diagnosis and prognosis. We work in vitro on glomerular cells exposed to diabetes-related insults, in vivo in animal models of diabetes, ex-vivo on human renal biopsies and biological samples (blood, urine).
We are currently engaged in active basic research programs focusing on the role of the endocannabinoid system, miRNA, inflammation, and cell to cell communication (exosomes, nanotubes) in the pathogenesis of diabetic nephropathy. Furthermore, we are actively involved in early biomarker discovery in metabolic and diabetic complications as members of the EURODIAB, the EURODIAB PCS, and the RIACE Study Group.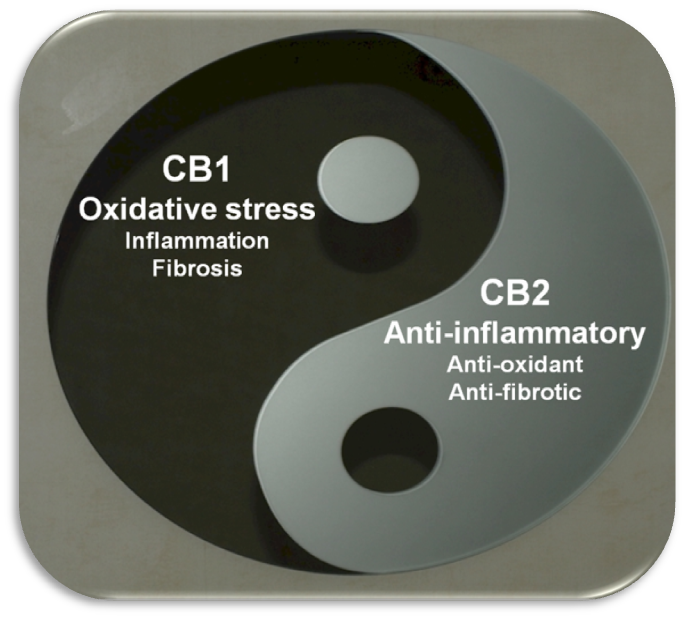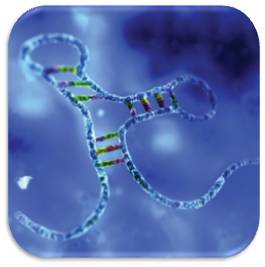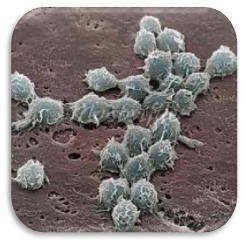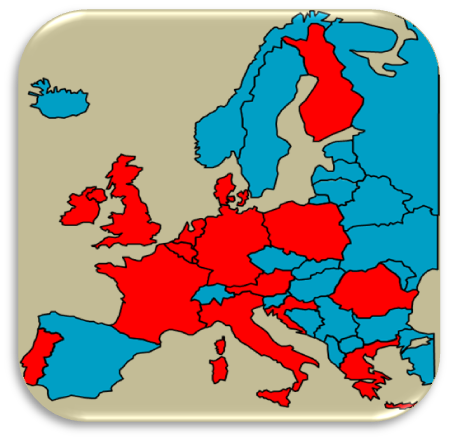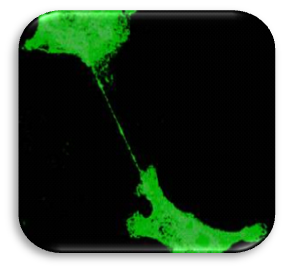 Endocannabinoids miRNA Exosome TNT Inflammation EUROBIAB Study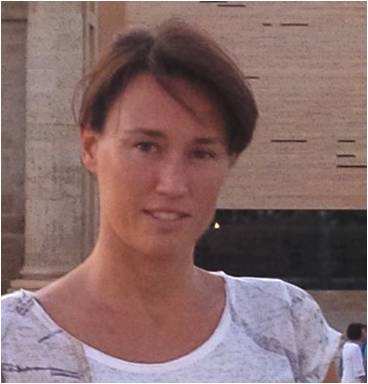 Dr. Federica Barutta post-doc

Federica Barutta has been awarded a European Federation for the Study of Diabetes (EFSD) Research Fellowship in Diabetes

Microvascular Complications in 2011 and she is currently the recipient of a three-years Post-Doctoral JDRF Fellowship.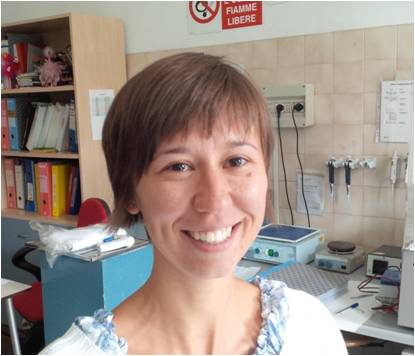 Dr. Serena Grimaldi PhD. Student

Serena Grimaldi is a PhD. student and she is currently working on a research project on

the role of miRNA in diabetic nephropathy, funded by the EFSD.

Prof. Gabriella Gruden Group Leader

Gabriella Gruden has a degree in Medicine, a Specialisation in Internal Medicine, and a PhD degree (University of London)

She has been working for over twenty years in the field of diabetic nephropathy both in Italy and the UK.
Publications
Penno G, Solini A, Zoppini G, Fondelli C, Trevisan R, Vedovato M, Cavalot F, Gruden G, Lamacchia O, Laviola L, Orsi E, Pugliese G; Renal Insufficiency Cardiovascular Events (RIACE) Study Group. Independent correlates of urinary albumin excretion within the normoalbuminuric range in patients with type 2 diabetes: The Renal Insufficiency And Cardiovascular Events (RIACE) Italian Multicentre Study. Acta Diabetol. 2015 Jul 10.
Bo S, Gruden G, Charbonnier E, Martorana M, Gambino R, Cassader M, Gentile L, Cavallo-Perin P, Durazzo M (2014)
High-normal blood pressure and impaired renal function. A prospective study in a population-based cohort.
https://iris.unito.it/handle/2318/148416
Gruden G, Landi A, Bruno G (2014)
Natriuretic peptides, heart, and adipose tissue: new findings and future developments for diabetes research.
https://iris.unito.it/handle/2318/154815
Pugliese G, Solini A, Bonora E, Orsi E, Zerbini G, Fondelli C, Gruden G, Cavalot F, Lamacchia O, Trevisan R, Vedovato M, Penno G (2014)
Distribution of cardiovascular disease and retinopathy in patients with type 2 diabetes according to different classification systems for chronic kidney disease: a cross-sectional analysis of the renal insufficiency and cardiovascular events (RIACE) Italian multicenter study.
https://iris.unito.it/handle/2318/154817
Barutta F, Grimaldi S, Franco I, Bellini S, Gambino R, Pinach S, Corbelli A, Bruno G, Rastaldi MP, Aveta T, Hirsch E, Di Marzo V, Gruden G (2014)
Deficiency of cannabinoid receptor of type 2 worsens renal functional and structural abnormalities in streptozotocin-induced diabetic mice.
https://iris.unito.it/handle/2318/154816
Bruno G, Barutta F, Landi A, Cavallo Perin P, Gruden G (2014)
The Effect of Age and NT-proBNP on the Association of Central Obesity with 6-Years Cardiovascular Mortality of Middle-Aged and Elderly Diabetic People: The Population-Based Casale Monferrato Study.
https://iris.unito.it/handle/2318/148222
Graziella Bruno, Federica Barutta, Andrea Landi, Paolo Cavallo Perin, Gabriella Gruden (2014)
NT-proBNP Linking Low-Moderately Impaired Renal Function and Cardiovascular Mortality in Diabetic Patients: The Population-Based Casale Monferrato Study.
https://iris.unito.it/handle/2318/154840
Lorenzati B, Ianni Palrchio A, Barutta F, Gruden G (2013)
Mechanical stretch and angiotensin II activate Janus tyrosine kinase-2 in human podocytes.
https://iris.unito.it/handle/2318/136124
Barutta F, Tricarico F, Corbelli A, Annaratone L, Pinach S, Grimaldi S, Bruno G, Cimino D, Taverna D, Deregibus MC, Rastaldi MP, Cavallo Perin P, Gruden G (2013)
Urinary Exosomal MicroRNAs in Incipient Diabetic Nephropathy.
https://iris.unito.it/handle/2318/139842
Lorenzati B, Barale M, Amione C, Tricarico M, Gruden G (2013)
Adult corkscrew ureter.
https://iris.unito.it/handle/2318/147760
Massa F, Tarabra E, Barutta F, Pinach S, Gruden G (2013)
Mechanical stretch induces fibronectin production in human podocytes via a TGF-beta 1-dependent mechanism.
https://iris.unito.it/handle/2318/139125
Pinach S, Burt D, Berrone E, Barutta F, Bruno G, Porta M, Perin PC, Gruden G (2013)
Retinal heat shock protein 25 in early experimental diabetes.
https://iris.unito.it/handle/2318/130058
Bruno G, Spadea T, Picariello R, Gruden G, Barutta F, Cerutti F, Cavallo-Perin p, Costa G, Gnavi R, Piedmont Study Group for Diabetes Epidemiology (2013)
Early life socioeconomic indicators and the risk of type 1 diabetes in children and young adults.
https://iris.unito.it/handle/2318/129939
M Trento, F Panero, M Porta, G Gruden, F Barutta, F Cerutti, R Gambino, M Perotto, P Cavallo Perin, G Bruno (2013)
Diabetes-specific variables associated with quality of life changes in young diabetic people: the type 1 diabetes Registry of Turin (Italy).
https://iris.unito.it/handle/2318/127978
Penno G, Solini A, Bonora E, Fondelli C, Orsi E, Zerbini G, Trevisan R, Vedovato M, Gruden G, Laviola L, Nicolucci A, Pugliese G, The Renal Insufficiency Cardiovascular Events (RIACE) study group (2013)
Gender differences in cardiovascular disease risk factors, treatments and complications in patients with type 2 diabetes: the RIACE Italian multicentre study.
https://iris.unito.it/handle/2318/128370
Panero F, Gruden G, Zucco C, Prinzis T, Perotto M, Greco E, Bruno G (2013)
Delayed discharge: a rising cause of concern in general internal medicine wards.
https://iris.unito.it/handle/2318/127534
Villois P, Tricarico M, Gruden G, Cavallo Perin P (2013)
Silicone lymphadenopathy after silent Silicone breast implant rupture.
https://iris.unito.it/handle/2318/139126
Pagano E, Gray A, Rosato R, Gruden G, Cavallo Perin P, Merletti F, Bruno G (2013)
Prediction of mortality and macrovascular complications in type 2 diabetes: validation of the UKPDS Outcomes Model in the Casale Monferrato survey, Italy.
https://iris.unito.it/handle/2318/128303
Gruden G, Barutta F, Pinach S, Lorenzati B, Cavallo-Perin P, Giunti S, Bruno G (2013)
Circulating anti-Hsp70 levels in nascent metabolic syndrome: the Casale Monferrato Study.
https://iris.unito.it/handle/2318/129683
Gruden G, Carucci P, Lolli V, Cosso L, Dellavalle E, Rolle E, Cantamessa A, Pinach S, Abate ML, Campra D, Brunello F, Bruno G, Rizzetto M, Perin PC (2013)
Serum heat shock protein 27 levels in patients with hepatocellular carcinoma.
https://iris.unito.it/handle/2318/120330
Bruno G, Landi A, Barutta F, Ghezzo G, Baldin C, Spadafora L, Schimmenti A, Prinzis T, Cavallo Perin P, Gruden G (2013)
NH2-Terminal Probrain Natriuretic Peptide Is a Stronger Predictor of Cardiovascular Mortality Than C-Reactive Protein and Albumin Excretion Rate in Elderly Patients With Type 2 Diabetes: The Casale Monferrato population-based study.
https://iris.unito.it/handle/2318/127110
Gruden G, Barutta F, Catto I, Bosco G, Caprioli MG, Pinach S, Fornengo P, Cavallo-Perin P, Davini O, Cerrato P, Bruno G (2013)
Serum levels of heat shock protein 27 in patients with acute ischemic stroke.
https://iris.unito.it/handle/2318/129629
Lombardo F, Maggini M, Gruden G, Bruno G (2013)
Temporal trend in hospitalizations for acute diabetic complications: a nationwide study, Italy, 2001-2010.
https://iris.unito.it/handle/2318/135728
Mannucci M, Nobili A, Tettamanti M, Pasina L, Franchi C, Salerno F, Corrao S, Marengoni A, Iorio A, Marcucci M, Sparacio E, Alborghetti S, Di Costanzo R, Tettamanti M, Djade CD, Prisco D, Silvestri E, Cenci C, Barnini T, Delitala G, Carta S, Atzori S, Guarnieri G, Zanetti M, Spalluti A, Serra MG, Bleve MA, Di Corato P, Vanoli M, Grignani G, Casella G, Gasbarrone L, Maniscalco G, Gunelli M, Tirotta D, Brucato A, Ghidoni S, Bernardi M, Li Bassi S, Santi L, Agnelli G, Iorio A, Marcucci M, Marchesini E, Mannarino E, Lupattelli G, Rondelli P, Paciullo F, Fabris F, Carlon M, Turatto F, Baroni MC, Zardo M, Manfredini R, Molino C, Pala M, Fabbian F, Nuti R, Valenti R, Ruvio M, Cappelli S, Paolisso G, Rizzo MR, Laieta MT, Salvatore T, Sasso FC, Utili R, Durante Mangoni E, Pinto D, Olivieri O, Stanzial AM, Fellin R, Volpato S, Fotini S, Barbagallo M, Dominguez L, Plances L, DAngelo D, Rini G, Mansueto P, Pepe I, Licata G, Calvo L, Valenti M, Borghi C, Strocchi E, Rinaldi ER, Zoli M, Fabbri E, Magalotti D, Auteri A, Pasqui AL, Puccetti L, Pasini FL, Capecchi PL, Bicchi M, Sabbà C, Vella FS, Marseglia A, Luglio CV, Palasciano G, Modeo ME, Aquilino A, Raffaele P, Pugliese S, Capobianco C, Postiglione A, Barbella MR, De Stefano F, Fenoglio L, Brignone C, Bracco C, Giraudo A, Musca G, Cuccurullo O, Cricco L, Fiorentini A, Cappellini MD, Fabio G, Seghezzi S, De Amicis MM, Fargion S, Bonara P, Bulgheroni M, Lombardi R, Magrini F, Massari F, Tonella T, Peyvandi F, Tedeschi A, Rossio R, Moreo G, Ferrari B, Roncari L, Monzani V, Savojardo V, Folli C, Magnini M, Mari D, Rossi PD, Damanti S, Prolo S, Lilleri MS, Cricco L, Fiorentini A, Micale G, Podda M, Selmi C, Meda F, Salerno F, Accordino S, Conca A, Monti V, Corazza GR, Miceli E, Lenti MV, Padula D, Balduini CL, Bertolino G, Provini S, Quaglia F, Murialdo G, Bovio M, Dallegri F, Ottonello L, Quercioli A, Barreca A, Secchi MB, Ghelfi D, Chin WS, Carassale L, Caporotundo S, Sofia L, Anastasio L, Carbone M, Di Carlo S, Traisci G, De Feudis L, Davì G, Guagnano MT, Sestili S, Bergami E, Rizzioli E, Cagnoni C, Bertone L, Manucra A, Buratti A, Tognin T, Liberato NL, Bernasconi G, Nardo B, Bianchi GB, Benetti G, Quagliolo M, Centenaro GR, Purrello F, Di Pino A, Piro S, Mancuso G, Calipari D, Bartone M, Gullo F, Cortellaro M, Magenta M, Perego F, Meroni MR, Cicardi M, Magenta AG, Sacco A, Bonelli A, Dentamaro G, Rozzini R, Falanga L, Giordano A, Perin PC, Lorenzati B, Gruden G, Bruno G, Montrucchio G, Greco E, Tizzani P, Fera G, Di Luca ML, Renna D, Perciccante A, Coralli A, Tassara R, Melis D, Rebella L, Menardo G, Bottone S, Sferrazzo E, Ferri C, Striuli R, Scipioni R, Salmi R, Gaudenzi P, Gamberini S, Ricci F, Morabito C, Fava R, Semplicini A, Gottardo L, Delitala G, Carta S, Atzori S, Vendemiale G, Serviddio G, Forlano R, Bolondi L, Rasciti L, Serio I, Masala C, Mammarella A, Raparelli V, Rossi Fanelli F, Delfino M, Amoroso A, Violi F, Basili S, Perri L, Serra P, Fontana V, Falcone M, Landolfi R, Grieco A, Gallo A, Zuccalà G, Franceschi F, De Marco G, Chiara C, Marta S, Bellusci M, Setti D, Pedrazzoli F, Romanelli G, Pirali C, Amolini C, Rosei EA, Rizzoni D, Castoldi L, Picardi A, Gentilucci UV, Mazzarelli C, Gallo P, Guasti L, Castiglioni L, Maresca A, Squizzato A, Contini S, Molaro M, Annoni G, Zazzetta MC, Bertolotti M, Scotto CM, Ferri MA, Veltri F, Arturi F, Succurro E, Sesti G, Gualtieri U, Perticone F, Sciacqua A, Quero M, Bagnato C, Loria P, Becchi MA, Martucci G, Fantuzzi A, Maurantonio M, Corinaldesi R, De Giorgio R, Serra M, Grasso V, Ruggeri E, Carozza LM, Pignatti F (2013)
Prophylaxis of venous thromboembolism in elderly patients with multimorbidity.
https://iris.unito.it/handle/2318/149223
Perotto M, Panero F, Gruden G, Fornengo P, Lorenzati B, Barutta F, Ghezzo G, Amione C, Cavallo Perin P, Bruno G (2013)
Obesity is associated with lower mortality risk in elderly diabetic subjects: the Casale Monferrato study.
https://iris.unito.it/handle/2318/129998
Marcucci M, Nobili A, Tettamanti M, Iorio A, Pasina L, Djade CD, Franchi C, Marengoni A, Salerno F, Corrao S, Violi F, Mannucci PM, Pier MM, Nobili A, Tettamanti M, Pasina L, Franchi C, Salerno F, Corrao S, Marengoni A, Iorio A, Marcucci M, Spirito V, Noce D, Bonazzi J, Lombardo R, Sparacio E, Alborghetti S, Tettamanti M, De Vittorio L, Djade CD, Prisco D, Silvestri E, Cenci C, Barnini T, Delitala G, Carta S, Atzori S, Guarnieri G, Zanetti M, Spalluti A, Serra MG, Bleve MA, Vanoli M, Grignani G, Casella G, Gasbarrone L, Maniscalco G, Gunelli M, Tirotta D, Brucato A, Ghidoni S, Di Corato P, Bernardi M, Li Bassi S, Santi L, Agnelli G, Iorio A, Marcucci M, Marchesini E, Mannarino E, Lupattelli G, Rondelli P, Paciullo F, Fabris F, Carlon M, Turatto F, Baroni MC, Zardo M, Manfredini R, Molino C, Pala M, Fabbian F, Nuti R, Valenti R, Ruvio M, Cappelli S, Paolisso G, Rizzo MR, Laieta MT, Salvatore T, Sasso FC, Utili R, Durante Mangoni E, Pinto D, Olivieri O, Stanzial AM, Fellin R, Volpato S, Fotini S, Barbagallo M, Dominguez L, Plances L, D', Angelo D, Rini G, Mansueto P, Pepe I, Licata G, Calvo L, Valenti M, Borghi C, Strocchi E, Rinaldi ER, Zoli M, Fabbri E, Magalotti D, Auteri A, Pasqui AL, Puccetti L, Pasini FL, Capecchi PL, Bicchi M, Sabbà C, Vella FS, Marseglia A, Luglio CV, Palasciano G, Modeo ME, Aquilino A, Raffaele P, Pugliese S, Capobianco C, Postiglione A, Barbella MR, De Stefano F, Fenoglio L, Brignone C, Bracco C, Giraudo A, Musca G, Cuccurullo O, Cricco L, Fiorentini A, Cappellini MD, Fabio G, Seghezzi S, De Amicis MM, Fargion S, Bonara P, Bulgheroni M, Lombardi R, Magrini F, Massari F, Tonella T, Peyvandi F, Tedeschi A, Rossio R, Moreo G, Ferrari B, Roncari L, Monzani V, Savojardo V, Folli C, Magnini M, Mari D, Dionigi Rossi P, Damanti S, Prolo S, Lilleri MS, Cricco L, Fiorentini A, Micale G, Podda M, Selmi C, Meda F, Salerno F, Accordino S, Conca A, Monti V, Corazza GR, Miceli E, Lenti MV, Padula D, Balduini CL, Bertolino G, Provini S, Quaglia F, Murialdo G, Bovio M, Dallegri F, Ottonello L, Quercioli A, Barreca A, Secchi MB, Ghelfi D, Chin WS, Carassale L, Caporotundo S, Sofia L, Anastasio L, Carbone M, Traisci G, De Feudis L, Di Carlo S, Guagnano MT, Sestili S, Bergami E, Rizzioli E, Cagnoni C, Bertone L, Manucra A, Buratti A, Tognin T, Liberato NL, Bernasconi G, Nardo B, Bianchi GB, Giaquinto S, Benetti G, Quagliolo M, Centenaro GR, Purrello F, Di Pino A, Piro S, Mancuso G, Calipari D, Bartone M, Gullo F, Cortellaro M, Magenta M, Perego F, Meroni MR, Cicardi M, Magenta AG, Sacco A, Bonelli A, Dentamaro G, Rozzini R, Falanga L, Giordano A, Perin PC, Lorenzati B, Gruden G, Bruno G, Montrucchio G, Greco E, Tizzani P, Fera G, Di Luca ML, Renna D, Perciccante A, Coralli A, Tassara R, Melis D, Rebella L, Menardo G, Bottone S, Sferrazzo E, Ferri C, Striuli R, Scipioni R, Salmi R, Gaudenzi P, Gamberini S, Ricci F, Morabito C, Fava R, Semplicini A, Gottardo L, Delitala G, Carta S, Atzori S, Vendemiale G, Serviddio G, Forlano R, Bolondi L, Rasciti L, Serio I, Masala C, Mammarella A, Raparelli V, Rossi Fanelli F, Delfino M, Amoroso A, Violi F, Basili S, Perri L, Serra P, Fontana V, Falcone M, Landolfi R, Grieco A, Gallo A, Zuccalà G, Franceschi F, De Marco G, Chiara C, Marta S, Bellusci M, Setti D, Pedrazzoli F, Romanelli G, Pirali C, Amolini C, Rosei EA, Rizzoni D, Castoldi L, Picardi A, Gentilucci UV, Mazzarelli C, Gallo P, Guasti L, Castiglioni L, Maresca A, Squizzato A, Contini S, Molaro M, Annoni G, Zazzetta MC, Bertolotti M, Scotto CM, Ferri MA, Veltri F, Arturi F, Succurro E, Sesti G, Gualtieri U, Perticone F, Sciacqua A, Quero M, Bagnato C, Loria P, Becchi MA, Martucci G, Fantuzzi A, Maurantonio M, Corinaldesi R, De Giorgio R, Serra M, Grasso V, Ruggeri E, Carozza LM, Pignatti F (2013)
Joint use of cardio-embolic and bleeding risk scorers in elderly patients with atrial fibrillation.
https://iris.unito.it/handle/2318/149221
Pugliese G, Solini A, Zoppini G, Orsi E, Zerbini G, Vedovato M, Gruden G, Cavalot F, Cignarelli M, Morano S, Nicolucci A, Penno G (2012)
Attuale prevalenza e correlate della retinopatia in pazienti con diabete di tipo 2: lo studio RIACE.
https://iris.unito.it/handle/2318/118874
Lorenzati B, Giunti S, Barutta F, Pinach S, Amione C, Tricarico M, Landi A, Schimmenti A, Cavallo Perin P, Bruno G, Gruden G (2012)
Associazione tra anti-HSP70 e sindrome plurimetabolica: il Casale Monferrato Study.
https://iris.unito.it/handle/2318/119422
Barutta F, Tricarico M, Corbelli A, Pinach S, Grimaldi S, Bruno G, Rastaldi M, Cavallo Perin P, Gruden G (2012)
Urinary exosomal microRNA signature in incipient diabetic nephropathy.
https://iris.unito.it/handle/2318/117435
Landi A, Gruden G, Ghezzo G, Baldin C, Amione C, Schimmenti A, Spadafora L, Trinzis T, Cavallo Perin P, Bruno G (2012)
N-terminal pro-brain natriuretic peptide and cardiovascular mortality in type 2 diabetes: the Casale Monferrato survey.
https://iris.unito.it/handle/2318/118656
Panero F, Gruden G, Perotto M, Fornengo P, Barutta F, Greco E, Runzo C, Ghezzo G, Cavallo-Perin P, Bruno G (2012)
Uric acid is not an independent predictor of cardiovascular mortality in type 2 diabetes: a population-based study.
https://iris.unito.it/handle/2318/129238
Mastrocola R, Barutta F, Pinach S, Bruno G, Perin PC, Gruden G (2012)
Hippocampal heat shock protein 25 expression in streptozotocin-induced diabetic mice.
https://iris.unito.it/handle/2318/133327
Lorenzati B, Giunti S, Barutta F, PInach S, Cavallo Perin P, Bruno G, Gruden G (2012)
Anti-HSP70 levels and the metabolic syndrome: the Casale Monferrato Study.
https://iris.unito.it/handle/2318/117218
Penno G, Solini A, Zoppini G, Orsi E, Zerbini G, Trevisan R, Gruden G, Cavalot F, Laviola L, Morano S, Nicolucci A, Pugliese G (2012)
Rate and Determinants of Association Between Advanced Retinopathy and Chronic Kidney Disease in Patients With Type 2 Diabetes: The Renal Insufficiency And Cardiovascular Events (RIACE) Italian multicenter study.
https://iris.unito.it/handle/2318/120759
Trevisan M, Rabullo M, Trinetta A, Gallo S, Gruden G, Tonutti L, Passera P, Boggio Bertinet D, Charrier L, Cavallo F, Porta M, Trento M (2012)
Verifica dei disturbi del comportamento alimentare, qualità di vita, ansia e depressione nelle donne con diabete di tipo 1.
https://iris.unito.it/handle/2318/119571
Gruden G, Barutta F, Chaturvedi N, Schalkwijk C, Stehouwer CD, Witte DR, Fuller JH, Cavallo Perin P, Bruno G (2012)
Severe Hypoglycemia and Cardiovascular Disease Incidence in Type 1 Diabetes: The EURODIAB Prospective Complications Study.
https://iris.unito.it/handle/2318/106986
Gruden G, Barutta F, Chaturvedi N, Schalkwijk C, Stehouwer CD, Pinach S, Manzo M, Loiacono M, Tricarico M, Mengozzi G, Witte DR, Fuller JH, Perin PC, Bruno G (2012)
NH2-Terminal Probrain Natriuretic Peptide Is Associated With Diabetes Complications in the EURODIAB Prospective Complications Study: The role of tumor necrosis factor-?
https://iris.unito.it/handle/2318/107085
Gruden G, Barutta F, Cavallo Perin P, Bruno G (2012)
Response to Comment on: Gruden et al. Severe Hypoglycemia and Cardiovascular Disease Incidence in Type 1 Diabetes: The EURODIAB Prospective Complications Study. Diabetes Care 2012;35:1598-1604.
https://iris.unito.it/handle/2318/127585
Gruden G, Giunti S, Barutta F, Chaturvedi N, Witte DR, Tricarico M, Fuller JH, Cavallo Perin P, Bruno G (2012)
QTc Interval Prolongation Is Independently Associated With Severe Hypoglycemic Attacks in Type 1 Diabetes From the EURODIAB IDDM Complications Study.
https://iris.unito.it/handle/2318/92842
Giunti S, Gruden G, Fornengo P, Barutta F, Amione C, Grezzo G, Cavallo-Perin P, Bruno G (2012)
Increased QT interval dispersion predicts 15-years cardiovascular mortality in type 2 diabetic subjects. The population-based Casale Monferrato Study.
https://iris.unito.it/handle/2318/131798
Pugliese G, Penno G, Bonora E, Orsi E, Zerbini G, Fondelli C, Gruden G, Cavalot F, Cignarelli M, Laviola L, Morano S, Vedovato M, Trevisan R, Nicolocci A, Solini A (2011)
Association of normoalbuminuric renal impairment with cardiovascular disease.
https://iris.unito.it/handle/2318/92475
Gruden G (2011)
I farmaci inibitori del sistema RAS.
https://iris.unito.it/handle/2318/92257
Barutta F, Corbelli A, Pinach S, Rastaldi MP, Cavallo Perin P, Gruden G (2011)
Effect of CB2 receptor deletion in streptozotocin-induced diabetic mice.
https://iris.unito.it/handle/2318/92159
Barutta F, Piscitelli F, Pinach S, Bruno G, Gambino R, Rastaldi MP, Salvidio G, Di Marzo V, Cavallo Perin P, Gruden G (2011)
Protective role of cannabinoid receptor type-2 in a mouse model of diabetic nephropathy.
https://iris.unito.it/handle/2318/127751
Penno G, Solini A, Bonora E, Fondelli C, Orsi E, Zerbini G, Trevisan R, Vedovato M, Gruden G, Cavalot F, Cignarelli M, Laviola L, Morano S, Nicolucci A, Pugliese G (2011)
Clinical significance of nonalbuminuric renal impairment in type 2 diabetes.
https://iris.unito.it/handle/2318/92762
Gruden G (2010)
Nefropatia Diabetica.
https://iris.unito.it/handle/2318/77726
Pugliese, Solini A, Bonora E, Orsi E, Zerbini G, Fondelli C, Morano S, Cignarelli M, Laviola L, Cavalot FL, Gruden G, Trevisan R, Vedovato M, Nicolucci A, Penno A (2010)
Cardiovascular risk factors and micro- and macrovascular complications in patients with type 2 diabetes in Italy.
https://iris.unito.it/handle/2318/119064
Barutta F, Gambino R, Pinach S, Cavallo Perin P, Gruden G (2010)
Effect of CB2 Receptor Activation in Experimental Diabetic Nephropathy.
https://iris.unito.it/handle/2318/82340
Gruden G (2010)
Ipertensione arteriosa.
https://iris.unito.it/handle/2318/77725
Bruno G, De Micheli A, Frontoni S, Monge L, Bonomo M, De Cosmo S, Grassi G, Nicolucci A, Aiello A, Bertuzzi F, Bonora E, Cimino A, Cordera R, de Bigontina G, Di Bartolo P, Dotta F, Frittitta L, Giaccari A, Giorgino F, Gruden G, Marchetti P, Meschi F, Pellegrini MA, Rivellese A, Sesti G (2010)
Highlights from ?Italian Standards of Care for Diabetes Mellitus 2009?2010?
https://iris.unito.it/handle/2318/133503
Setti G, Hayward A, Dessapt C, Barone F, Buckingham R, White K, Bilous R, Hiroshi K, Gruden G, Viberti G, Gnudi L (2010)
Peroxisome proliferator-activated receptor-? agonist rosiglitazone prevents albuminuria but not glomerulosclerosis in experimental diabetes.
https://iris.unito.it/handle/2318/79299
Gruden G, Giunti S (2010)
Diabete mellito e ipoglicemie.
https://iris.unito.it/handle/2318/79930
Barutta F, Gambino R, Pinach S, Cavallo Perin P, Gruden G (2010)
ATTIVAZIONE DEL RECETTORE CB2 E NEFROPATIA DIABETICA SPERIMENTALE.
https://iris.unito.it/handle/2318/81498
Giunti S, Barutta F, Perin PC, Gruden G (2010)
Targeting the MCP-1/CCR2 System in diabetic kidney disease.
https://iris.unito.it/handle/2318/82892
Miceli I, Burt D, Tarabra E, Camussi G, Perin PC, Gruden G (2010)
Stretch reduces nephrin expression via an angiotensin II-AT(1)-dependent mechanism in human podocytes: effect of rosiglitazone.
https://iris.unito.it/handle/2318/82025
Barutta F, Gambino R, Cavallo Perin P, Gruden G (2010)
Ruolo protettivo del recettore CB2 nella nefropatia diabetica sperimentale.
https://iris.unito.it/handle/2318/82338
Barutta F, Corbelli A, Mastrocola R, Gambino R, Di Marzo V, Pinach S, Rastaldi MP, Perin PC, Gruden G (2010)
Cannabinoid receptor 1 blockade ameliorates albuminuria in experimental diabetic nephropathy.
https://iris.unito.it/handle/2318/79300
Tarabra E, Giunti S, Barutta F, Salvidio G, Burt D, Deferrari G, Gambino R, Vergola D, Pinach S, Cavallo Perin P, Camussi G, Gruden G (2009)
Effect of the MCP-1/CCR2 system on nephrin expression in streptozotocin-treated mice and human cultured podocytes.
https://iris.unito.it/handle/2318/66339
Lorenzati B, Gruden G (2009)
Ipertensione arteriosa e microangiopatia: un rapporto complesso.
https://iris.unito.it/handle/2318/129562
Barutta F, Giunti S, Mastrocola R, Pinach S, Giardino L, Rastaldi MP, Cavallo Perin P, Gruden G (2009)
Effects of CB1 Blockade In Experimental Diabetic Nephropathy.
https://iris.unito.it/handle/2318/75917
Cosso L, Carucci P, Gruden G, Lolli V, Rolle E, Pinach S, Abate ML, Brunello F, Bruno G, Rizzetto M, Cavallo Perin P (2009)
Serum heat shock protein 27 is a new circulating biomarker for hepatocellular carcinoma.
https://iris.unito.it/handle/2318/120284
Barutta F, Giunti S, Mastrocola R, Pinach S, Giardino L, Rastaldi MP, Cavallo Perin P, Gruden G (2009)
Il blocco del recettore CB1 nella nefropatia diabetica sperimentale.
https://iris.unito.it/handle/2318/87393
Burt D, Bruno G, Chaturvedi N, Schalkwijk C, Stehouwer CD, Witte DR, Fuller JH, Pinach S, Perin PC, Gruden G (2009)
Anti-heat shock protein 27 antibody levels and diabetes complications in the EURODIAB study.
https://iris.unito.it/handle/2318/130355
Gruden G, Bruno G, Chaturvedi N, Burt D, Pinach S, Schalkwijk C, Stehouwer CD, Witte DR, Fuller JH, Cavallo Perin P (2009)
ANTI-HSP60 and ANTI-HSP70 antibody levels and micro/ macrovascular complications in type 1 diabetes: the EURODIAB Study.
https://iris.unito.it/handle/2318/126845
Barutta F, Giunti S, Mastrocola R, Pinach S, Giardino L, , , Rastaldi MP, Cavallo Perin P, Gruden G (2009)
Il blocco del recettore CB1 nella nefropatia diabetica sperimentale.
https://iris.unito.it/handle/2318/76161
Rispoli P, Casella F, Lorenzati B, Guerzoni V, Gruden G, Conforti M, Varetto G (2009)
Isolated dissection of the superior mesenteric artery: conservative approach in a selected patient.
https://iris.unito.it/handle/2318/79955
Burt D, Pinach S, Berrone E, Miceli I, Porta M, Cavallo Perin P, Gruden G (2008)
Increased retinal HSP27 expression in early experimental diabetes.
https://iris.unito.it/handle/2318/120701
Barutta F, Pinach S, Giunti S, Vittone F, Forbes JM, Chiarle R, Arnstein M, Perin PC, Camussi G, Cooper ME, Gruden G (2008)
Heat shock protein expression in diabetic nephropathy.
https://iris.unito.it/handle/2318/127744
Tarabra E, Massa F, Gambino R, Giunti S, Cavallo-Perin P, Camussi G, Gruden G (2008)
Espressione delle proteine dello slit DIAPHRAGM in animali diabetici knockout per il monocyte chemoattractant protein-1.
https://iris.unito.it/handle/2318/120206
GIUNTI S, TESCH GH, PINACH S, BURT DJ, COOPER ME, CAVALLO-PERIN P, CAMUSSI G, GRUDEN G (2008)
Monocyte chemoattractant protein-1 has prosclerotic effects both in a mouse model of experimental diabetes and in vitro in human mesangial cells.
https://iris.unito.it/handle/2318/25034
Pinach S, Barutta F, Forbes J, Chiarle R, Giunti S, Arnstein M, Miceli I, Cavallo Perin P, Camussi G, Cooper ME, Gruden G (2008)
Espressione delle Heat Shock Proteins nella nefropatia diabetica sperimentale.
https://iris.unito.it/handle/2318/119424
Bruno G, De Micheli A, Fedele D, Monge L, Bonomo M, Consoli A, De Cosmo S, Di Bartolo P, Di Benedetto A, Di Cianni G, Dotta F, Giaccari A, Giorgino F, Grassi G, Gruden G, Mannino D, Orlandini D, Ponziani MC, Vaccaro O, Vitacolonna E, Nicolucci A, Cimino N, de Bigontina G, Meloncelli I, Meschi M (2008)
Italian standards for diabetes mellitus 2007: executive summary.
https://iris.unito.it/handle/2318/120351
Gruden G, Bruno G, Chaturvedi N, Burt D, Schalkwijk C, Pinach S, Stehouwer CD, Witte DR, Fuller JH, Perin PC (2008)
Serum heat shock protein 27 and diabetes complications in the EURODIAB prospective complications study: a novel circulating marker for diabetic neuropathy.
https://iris.unito.it/handle/2318/99670
S GIUNTI, G BRUNO, E LILLAZ, G GRUDEN, V LOLLI, N CHATURVEDI, J H FULLER, M VEGLIO, P CAVALLO-PERIN (2007)
Incidence and risk factors of prolonged QTc interval in type 1 diabetes: the Eurodiab Prospective Complications Study.
https://iris.unito.it/handle/2318/40462
Gruden G (2007)
Ipertensione e suo trattamento.
https://iris.unito.it/handle/2318/75157
Gruden G (2007)
Screening e trattamento della nefropatia diabetica.
https://iris.unito.it/handle/2318/77700
Barutta F, Pinach S, Forbes J, Chiarle R, Giunti S, Arnstein M, Cavallo Perin P, Camussi G, Cooper ME, Gruden G (2007)
Heat shock protein expression in early diabetic nephropathy.
https://iris.unito.it/handle/2318/120702
Burt D, Bruno G, Chaturvedi N, Stehouwer CD, Pinach S, Witte D, Fuller JH, Cavallo Perin P, Gruden G (2007)
Association between serum heat shock proteins and anti-heat shock proteins levels with micro/macrovascular complications in type 1 diabetes: the EURODIAB Prospective Complications Study.
https://iris.unito.it/handle/2318/118790
Gruden G, Viberti GC (2007)
Pathogenesis of Diabetic Nephropathy.
https://iris.unito.it/handle/2318/120352
BURT D, SALVIDIO G, TARABRA E, BARUTTA F, PINACH S, DENTELLI P, CAMUSSI G, PERIN PC, GRUDEN G (2007)
The Monocyte Chemoattractant Protein-1/Cognate CC Chemokine Receptor 2 System Affects Cell Motility in Cultured Human Podocytes.
https://iris.unito.it/handle/2318/39357
E Berrone, E Beltramo, S Tarallo, S Giunti, G Gruden, P Cavallo Perin, M Porta (2006)
Effetti dello stress meccanico (stretch) combinato all?alto glucosio sulla proliferazione, l?apoptosi e la morfologia dei periciti retinici.
https://iris.unito.it/handle/2318/74825
E Beltramo, E Berrone, S Giunti, G Gruden, P Cavallo Perin, M Porta (2006)
Effects of mechanical stress and high glucose on pericyte proliferation, apoptosis and contractile phenotype.
https://iris.unito.it/handle/2318/82585
Gruppo di Studio SID Nefropatia diabetica, Pugliese G, Fioretto P, De Cosmo S, Gruden G, Morano S, Penno G, Pugliese F, Zerbini G, Gesualdo L, Solini A, Velussi M (2006)
Linee guida per lo screening, il monitoraggio, la prevenzione e il trattamento della nefropatia diabetica.
https://iris.unito.it/handle/2318/122723
S GIUNTI, S PINACH, L ARNALDI, G VIBERTI, P C PERIN, G CAMUSSI, G GRUDEN (2006)
The MCP-1/CCR2 system has direct proinflammatory effects in human mesangial cells.
https://iris.unito.it/handle/2318/39019
E Beltramo, E Berrone, S Giunti, G Gruden, P Cavallo Perin, M Porta (2005)
Effects of mechanical stress (stretch) combined with high glucose on retinal pericyte replication, apoptosis and morphology.
https://iris.unito.it/handle/2318/76840
Setti G, Gnudi L, Barone F, Hayward A, Gruden G, Buckingham R, Viberti G (2005)
Prevention of glomerular macrophages infiltration and renal MCP-1 expression by rosiglitazone in experimental diabetes.
https://iris.unito.it/handle/2318/120770
GIUNTI S, BRUNO G, VEGLIO M, GRUDEN G, WEBB D, LIVINGSTONE S, CHATURVEDI N, FULLER JH, CAVALLO-PERIN P, AND THE EURODIAB IDDM COMPLICATIONS STUDY GROUP (2005)
Electrocardiographic left ventricular hypertrophy in type 1 diabetes. Prevalence and relation to coronary heart disease and cardiovascular risk factors: The Eurodiab IDDM Complications Study.
https://iris.unito.it/handle/2318/102462
E Beltramo, E Berrone, S Giunti, G Gruden, P Cavallo Perin, M Porta (2005)
Effetti dello stress meccanico(stretch) combinato con l?alto glucosio sulla proliferazione, l?apoptosi e la morfologia dei periciti retinici.
https://iris.unito.it/handle/2318/76603
Burt D, Giunti S, Pinach S, Camussi G, Cavallo Perin P, Gruden G (2005)
Monocyte Chemoattractant Protein-1 (MCP-1) has direct prosclerotic effects in human mesangial cells.
https://iris.unito.it/handle/2318/119065
GRUDEN G, SETTI G, HAYWARD A, SUGDEN D, DUGGAN S, BURT D, BUCKINGHAM RE, GNUDI L, VIBERTI G (2005)
Mechanical stretch induces monocyte chemoattractant activity via an NF-kappaB-dependent monocyte chemoattractant protein-1-mediated pathway in human mesangial cells: inhibition by rosiglitazone.
https://iris.unito.it/handle/2318/37949
E Berrone, E Beltramo, S Tarallo, S Giunti, G Gruden, P Cavallo Perin, M Porta (2005)
Effects of mechanical stress (stretch) combined with high glucose on retinal pericyte replication, apoptosis and morphology.
https://iris.unito.it/handle/2318/77088
GRUDEN G, CAVALLO PERIN P, CAMUSSI G (2005)
Insight on the pathogenesis of diabetic nephropathy from the study of podocyte and mesangial cell biology.
https://iris.unito.it/handle/2318/41386
Setti G, Gnudi L, Hayward A, Gruden G, Buckingham R, Viberti G (2004)
Sustained prevention of albuminuria but not nephromegaly by rosiglitazone in experimental diabetes.
https://iris.unito.it/handle/2318/118791
Giunti S, Pinach S, Palarchio AI, Arnaldi L, Vittone F, Viberti G, Camussi G, Cavallo Perin P, Gruden G (2004)
The MCP-1/CCR2 system in human mesangial cells: modulation by stretch and role in ICAM-1 expression.
https://iris.unito.it/handle/2318/119066
Gruden G, Gnudi L, Viberti GC (2004)
Pathogenesis of Diabetic Nephropathy.
https://iris.unito.it/handle/2318/37309
Setti G, Gnudi L, Hayward A, Gruden G, Buckingham R, Viberti G (2004)
Prevention of albuminuria but not nephromegaly by rosiglitazone in experimental diabetes.
https://iris.unito.it/handle/2318/118792
E Berrone, S Giunti, G Gruden, E Beltramo, C Solimine, A Ubertalli Ape, P Cavallo Perin, M Porta (2004)
Effetti dello stress meccanico (stretch) sulla proliferazione cellulare nei periciti retinici bovini in alto glucosio.
https://iris.unito.it/handle/2318/76839
Giunti S, Pinach S, Ianni Palarchio A, Arnaldi L, Vittone F, Viberti GC, Camussi G, Cavallo Perin P, Gruden G (2004)
Il sistema MCP-1/CCR2 nelle cellule mesangiali umane: modulazione da stretch e ruolo nell?espressione di ICAM-1.
https://iris.unito.it/handle/2318/119491
Setti G, Gruden G, Hayward A, Sugden D, Gnudi L, Viberti GC (2003)
Rosiglitazone prevents stretch-induced monocyte recruitment by inhibiting the NFkB-MCP-1 pathway in human mesangial cells.
https://iris.unito.it/handle/2318/119276
Gnudi L, Gruden G, Viberti GC (2003)
Pathogenesis of Diabetic Nephropathy.
https://iris.unito.it/handle/2318/118843
Gnudi L, Setti G, Gruden G, Hayward A, Sugden D, Buckingham R, Viberti G (2003)
Rosiglitazone prevents stretch-induced monocytes recruitment by inhibiting the NFkB-MCP1 pathway in human mesangial cells.
https://iris.unito.it/handle/2318/120771
Gnudi L, Gruden G, Burt DJ, Hayward A, Thomas S, Viberti GC (2003)
Mechanical stretch and cytokines upregulate vascular endothelial growth factor and its receptors in glomerular epithelial cells in vitro.
https://iris.unito.it/handle/2318/120772
Gruden G, Setti G, Hayward A, Sugden D, Buckingham R, Gnudi L, Viberti GC (2003)
Rosiglitazone prevents stretch-induced monocyte recruitment by inhibiting the NFkB MCP1 pathway in human mesangial cells.
https://iris.unito.it/handle/2318/120773
GNUDI L, VIBERTI G, RAIJ L, RODRIGUEZ V, BURT D, CORTES P, HARTLEY B, THOMAS S, MAESTRINI S, G GRUDEN (2003)
GLUT-1 overexpression: Link between hemodynamic and metabolic factors in glomerular injury?
https://iris.unito.it/handle/2318/36692
GRUDEN G, ARAF S, ZONCA S, BURT D, THOMAS S, GNUDI L, VIBERTI G (2003)
IGF-I induces vascular endothelial growth factor in human mesangial cells via a Src-dependent mechanism.
https://iris.unito.it/handle/2318/38325
D J BURT, G GRUDEN, S M THOMAS, P TUTT, C DELL', ANNA, G C VIBERTI, L GNUDI (2003)
P38 mitogen-activated protein kinase mediates hexosamine-induced TGFbeta1 mRNA expression in human mesangial cells.
https://iris.unito.it/handle/2318/42579
Hayward A, Burt D, Gruden G, Thomas S, Viberti GC, Gnudi G (2003)
Mechanical Stretch and Cytokines Upregulate Vascular Endothelial Growth Factor and its Receptors in Glomerular Epithelial Cells, In Vitro.
https://iris.unito.it/handle/2318/119401
Hayward A, Setti G, Thomas S, Gnudi L, Viberti G, Gruden G (2002)
Stretch up-regulates VEGF in murine glomerular epithelial cells via a PKC-independent mechanism.
https://iris.unito.it/handle/2318/119102
Gruden G, Setti G, Gnudi L, Viberti GC (2002)
Mechanical stretch induces MCP-1 production in human mesangial cells via a NF-kB-dependent mechanism.
https://iris.unito.it/handle/2318/118420
Gruden G, Invitti C, Viberti GC (2002)
Strategie terapeutiche nel trattamento dell'insulino-resistenza.
https://iris.unito.it/handle/2318/121795
Burt D, Gruden G, Thomas S, Viberti G, Gnudi L (2002)
P38-MAPK mediates hexosamine-induced TGF-b1 mRNA expression in human mesangial cells.
https://iris.unito.it/handle/2318/118846
Gruden G, Setti G, Hayward A, Gnudi L, Viberti G (2002)
Rosiglitazone prevents stretch-induced MCP-1 production in human mesangial cells.
https://iris.unito.it/handle/2318/119528
Burt D, Gruden G, Thomas S, Tutt P, Viberti G, Gnudi L (2002)
P38-mitogen activated protein kinase mediates hexosamine-induced TGF beta 1 mRNA expression in human mesangial cells.
https://iris.unito.it/handle/2318/119100
Gruden G, Setti G, Hayward A, Gnudi L, Viberti G (2002)
Rosiglitazone prevents stretch-induced MCP-1 production in human mesangial cells.
https://iris.unito.it/handle/2318/119099
Gruden G, Hayward A, Setti G, Gnudi G, Viberti GC (2002)
Stretch upregulates Vascular Endothelial Growth factor in murine glomeurlar epithelial cells via a PKC-independent mechanism.
https://iris.unito.it/handle/2318/118425
Burt D, Gruden G, Thomas S, Viberit GC, Gnudi L (2002)
Hexosamine-induced TGF-b1 mRNA expression is mediated by P38-MAPK in human mesangial cells.
https://iris.unito.it/handle/2318/118422
Araf S, Gruden G, Gnudi L, Thomas S, Burt D, Viberti G (2002)
Insulin growth factor-1 induces vascular endothelial growth factor protein secretion via a Src-dependent mechanism in human mesangial cells.
https://iris.unito.it/handle/2318/118847
Rodriquez V, Gruden G, Gnudi L, Johnson B, Thomas S, Hartley B, Raij L, Viberti GC (2001)
Glut-1 upregulation in glomerular hypertension: implication for diabetic glomerulopathy.
https://iris.unito.it/handle/2318/118723
Gnudi L, Hayward A, Thomas S, Gruden G, Viberti GC (2001)
Mechanical stretch induces reduction in alpha3 beta1 integrins in Glomerular Epithelial Cells in vitro.
https://iris.unito.it/handle/2318/118780
Gruden G, Gnudi L, Rodriguez V, Johnson B, Thomas S, Hartley B, Raij L, Viberti GC (2001)
GLUT1 is upregulated in glomerular hypertension: Possible role in the pathophysiology of diabetic glomerulopathy.
https://iris.unito.it/handle/2318/118781
Burt D, Thomas S, Gruden G, Tutt P, Dell', Anna C, Viberti GC, Gnudi L (2001)
High glucose is necessary for hexosamine-induced TGF-b1 expression in human mesangial cells.
https://iris.unito.it/handle/2318/119236
Burt D, Thomas S, Gruden G, Tutt P, Viberti GC, Gnudi L (2001)
The role of the exosamine pathway in glucose-induced TGF-b1 expression in human mesangial cells.
https://iris.unito.it/handle/2318/118724
Rodriguez V, Thomas S, Burt D, Gruden G, Hartley B, Gnudi L, Viberti G (2000)
Vascular endothelial growth factor receptors are expressed in vitro and ex-vivo by human mesangial cells.
https://iris.unito.it/handle/2318/118783
Gruden G, Zonca S, Hayward A, Thomas S, Gnudi L, Viberti (2000)
p38 MAP kinase mediates TGF-b1-induced fibronectin production in human mesangial cells.
https://iris.unito.it/handle/2318/119568
THOMAS S, VANUYSTEL J, GRUDEN G, RODRÍGUEZ V, BURT D, GNUDI L, HARTLEY B, VIBERTI G (2000)
Vascular endothelial growth factor receptors in human mesangium in vitro and in glomerular disease.
https://iris.unito.it/handle/2318/35017
Gruden G, Thomas S, Burt D, Zonca S, Gnudi L, Viberti G (2000)
IGF-I induces Vascular Endothelial Growth Factor gene expression and protein secretion in human mesangial cells.
https://iris.unito.it/handle/2318/118782
Gruden G (2000)
ROLE OF THE HAEMODYNAMIC INSULT IN THE PATHOGENESIS OF DIABETIC NEPHROPATHY: A NEW HYPOTHESIS.
https://iris.unito.it/handle/2318/120760
Burt DJ, Rahman A, Thomas SM, Gruden G, Gnudi L, Viberti G (2000)
Vascular Endothelial Growth Factor receptors are expressed in glomerular epithelial cells in vitro.
https://iris.unito.it/handle/2318/120098
Cavallo-Perin P, Lupia E, Gruden G, Olivetti C, De Martino A, Cassader M, Furlani D, Servillo L, Quagliuolo L, Iorio E, Boccellino MR, Montrucchio G, Camussi G (2000)
Increased blood levels of platelet-activating factor ininsulin-dependent diabetic patients with microalbuminuria.
https://iris.unito.it/handle/2318/108871
G GRUDEN, ZONCA S, HAYWARD A, THOMAS S, MAESTRINI S, GNUDI L, VIBERTI GC (2000)
Mechanical stretch-induced fibronectin and transforming growth factor-beta1 production in human mesangial cells is p38 mitogen-activated protein kinase-dependent.
https://iris.unito.it/handle/2318/38150
P CAVALLO PERIN, GRUDEN G , GIUNTI S , ARNALDI L , CASSADER M , GAMBINO R , PAGANO G (2000)
Apolipoprotein H is increased in type 2 diabetic patients with microalbuminuria.
https://iris.unito.it/handle/2318/37809
Gruden G, Zonca S, Hayward A, Thomas S, Gnudi L, Viberti GC (1999)
P38-MAPK mediates stretch-induced fibronectin producton in human mesangial cells.
https://iris.unito.it/handle/2318/119569
GRUDEN G, THOMAS S, BURT D, ZHOU W, CHUSNEY G, GNUDI L, VIBERTI G (1999)
Interaction of angiotensin II and mechanical stretch on vascular endothelial growth factor production by human mesangial cells.
https://iris.unito.it/handle/2318/40342
Thomas S, Gruden G, Burt D, Chusney G, Viberti GC (1998)
Vascular endothelial growth factor production by human mesangial cells.
https://iris.unito.it/handle/2318/120636
Gruden G, Thomas S, Burt D, Sacks S, Gnudi L, Viberti GC (1998)
Mechanical stretch induces TGF-b1 and type II-TGF-b1 receptor in human mesangial cells.
https://iris.unito.it/handle/2318/120886
Gruden G, Thomas S, Burt D, Sacks S, Viberti GC (1998)
Interaction of angiotensin II and stretch in the production of vascular endothelial growth factor (VEGF) by human mesangial cells.
https://iris.unito.it/handle/2318/118849
Burt D, Thomas S, Chusney G, Gruden G, Gnudi L, Viberti GC (1998)
Platelets: an important source of circulating vascular endothelial growth factor.
https://iris.unito.it/handle/2318/118848
Thomas S, Burt D, Vanuystel J, Gruden G, Gnudi L, Viberti GC (1998)
Glucose-induced TGF-b1 in skin fibroblasts from type 1 diabetic patients with diabetic nephropathy.
https://iris.unito.it/handle/2318/120885
BAZZAN M, GRUDEN G, STELLA S, VACCARINO A, TAMPONI G, OLIVETTI C, GIUNTI S, P CAVALLO PERIN (1998)
Microalbuminuria in IDDM is associated with increased expression of monocyte procoagulant activity.
https://iris.unito.it/handle/2318/40190
Cavallo-Perin P, Gruden G, Olivetti C (1998)
Microalbuminuria and cardiovascular risk.
https://iris.unito.it/handle/2318/120761
Gruden G, Thomas S, Burt D, Sacks S, Gnudi L, Viberti GC (1998)
Mechanical stretch induces TGF-b1 and type II-TGF-b1 receptor in human mesangial cells.
https://iris.unito.it/handle/2318/118725
Gruden G, Thomas S, Burt D, Lane S, Chusney G, Sacks S, Viberti GC (1997)
Mechanical Stretch Induces Vascular Permeability Factor (VPF) in Human Mesangial Cells: Mechanisms of Signal Transduction.
https://iris.unito.it/handle/2318/118785
Thomas SM, Gruden G, Viberti GC (1997)
Haemodynamic and metabolic promoters of microalbuminuria.
https://iris.unito.it/handle/2318/121087
GRUDEN G, THOMAS S, BURT D, LANE S, CHUSNEY G, SACKS S, VIBERTI G (1997)
Mechanical stretch induces vascular permeability factor in human mesangial cells: mechanisms of signal transduction.
https://iris.unito.it/handle/2318/32908
Thomas S, J Vanuysel, Gruden G, Burt D, Sack S, Viberti GC (1997)
Vascular endothelial growth factor (VEGF) induces the proliferation of human mesangial cells.
https://iris.unito.it/handle/2318/120099
Gruden G, Olivetti C, Montrucchio G, Lupia E, Camussi G, Cavallo Perin P (1997)
Increased levels of platelet-activating factor in insulin-dependent diabetic patients with microalbuminuria.
https://iris.unito.it/handle/2318/118784
Gruden G, Thomas S, Burt D, Chusney G, Sacks S, Viberti GC (1997)
Angiotensin II and mechanical stretch independently induces Vascular Permeability Factor (VPF) in human mesangial cells.
https://iris.unito.it/handle/2318/119237
Gruden G, De Cosmo S, Viberti GC (1997)
Obesità e sindrome plurimetabolica: legami molecolari.
https://iris.unito.it/handle/2318/121796
Bruno A, Fornengo P, Gruden G, CavalloPerin P, Cassader M, Milani S, Poggi G, Pagano G (1997)
Serum glucose, insulin, C-peptide and plasma glucagon response to oral glucose after intravenous injection of different glucocorticoids at increasing doses in man.
https://iris.unito.it/handle/2318/118602
Thomas S, Gruden G, Burt D, Chusney G, Viberti GC (1997)
Sustained glucose induced TGF-b1 production in skin fibroblasts from IDDM patients with diabetic nephropathy.
https://iris.unito.it/handle/2318/118658
GRUDEN G, OLIVETTI C, P CAVALLO PERIN, BAZZAN M, STELLA S, TAMPONI G, PAGANO G (1997)
Activated protein C resistance in type I diabetes.
https://iris.unito.it/handle/2318/40868
GRUDEN G, OLIVETTI C, TALIANO C, FURLANI D, GAMBINO R, PAGANO G, CAVALLO-PERIN P (1996)
Lipoprotein(a) after acute exercise in healthy subjects.
https://iris.unito.it/handle/2318/29820
MORMILE A, VEGLIO M, GRUDEN G, GIROTTO M, ROSSETTO P, D', ESTE P, CAVALLO-PERIN P (1996)
Physiological inhibitors of blood coagulation and prothrombin fragment F 1 + 2 in type 2 diabetic patients with normoalbuminuria and incipient nephropathy.
https://iris.unito.it/handle/2318/29818
Thomas S, Gruden G, Burt D, Chusney G, Viberti GC (1996)
High glucose induces Vascular Permeability Factor protein secretion in cultured human mesangial cells.
https://iris.unito.it/handle/2318/119570
Gruden G, Thomas S, Sacks S, Viberti GC (1996)
Mechanical stretch induces Vascular Permeability Factor gene expression and protein secretion in human mesangial cells.
https://iris.unito.it/handle/2318/119238
Gruden G, Thomas S, Sacks S, Viberti GC (1996)
Mechanical stretch induces TGF-b1 gene expression and protein secretion in human mesangial cells.
https://iris.unito.it/handle/2318/118659
Gruden G, Thomas S, Sacks S, Viberti GC (1996)
Mechanical stretch induces Vascular Permeability Factor gene expression and protein secretion in human mesangial cells.
https://iris.unito.it/handle/2318/118660
GRUDEN G, P CAVALLO PERIN, OLIVETTI C, REPETTI E, SIVIERI R, BRUNO A, PAGANO G (1995)
Albumin excretion rate levels in non-diabetic offspring of NIDDM patients with and without nephropathy.
https://iris.unito.it/handle/2318/40867
Veglio M, Gruden G, Mormile A, Girotto M, Rossetto P, D', Este P, Cavallo-Perin P (1995)
Anticoagulant protein C activity in non-insulin-dependent diabetic patients with normoalbuminuria and microalbuminuria.
https://iris.unito.it/handle/2318/120831
Olivetti C, Gruden G, Bazzan M, Stella S, Cavallo Perin P (1995)
Microalbuminuria in insulin-dependent diabetes is associated with monocyte procoagulant activity.
https://iris.unito.it/handle/2318/118786
Veglio M, Mormile A, Gruden G, Girotto M, Rossetto P, Cavallo Perin P (1995)
Coagulation inhibitors in type 2 diabetic patients with and without microalbuminuria.
https://iris.unito.it/handle/2318/119267
Thomas S, Gruden G, Lane S, Viberti GC (1995)
Glucose-induced vascular permeability factor (VPF) gene expression shows individual variability in cultured skin fibroblasts.
https://iris.unito.it/handle/2318/118726
Gruden G, Pagano G, Romagnoli R, Frezet D, Olivetti C, Cavallo-Perin P (1995)
Thrombomodulin levels in insulin-dependent diabetic patients with microalbuminuria.
https://iris.unito.it/handle/2318/120830
Bruno A, Carucci P, Cassader M, Cavallo-Perin P, Gruden G, Olivetti C, Pagano G (1994)
Serum glucose, insulin and C-peptide response to oral glucose after intravenous administration of hydrocortisone and methylprednisolone in man.
https://iris.unito.it/handle/2318/120829
Gruden G, Cavallo-Perin P, Bazzan M, Stella S, Vuolo A, Pagano G (1994)
PAI-1 and factor VII activity are higher in IDDM patients with microalbuminuria.
https://iris.unito.it/handle/2318/120416
Olivetti C, Gruden G, Veglio M, Mormile A, Cassader M, Cavallo Perin P, Pagano G (1994)
Lipoprotein(a) and insulin treatment in non insulin dependent diabetic patients.
https://iris.unito.it/handle/2318/121341
Gruden G, Veglio M, Cavallo-Perin P, Olivetti C, Mormile A, Cassader M, Pagano G (1994)
Lipoprotein(a) in non-insulin-dependent diabetic patients with normo- and microalbuminuria.
https://iris.unito.it/handle/2318/120827
Gruden G, Censon A, Olivetti C, Cavallo Perin P (1994)
Microalbuminuria and plasma endothelin-1 in non insulin dependent diabetes mellitus.
https://iris.unito.it/handle/2318/121088
Veglio M, Mormile A, Girotto P, Rossetto P, Autino R, Gruden G, Cavallo Perin P (1994)
Anticoagulant protein C in type II diabetic patients with and without microalbuminuria.
https://iris.unito.it/handle/2318/121339
Gruden G, Veglio M, Cavallo-Perin P, Olivetti C, Mormile A, Cassader M, Pagano G (1994)
Lipoprotein(a) and insulin treatment in NIDDM patients.
https://iris.unito.it/handle/2318/120263
Cavallo Perin P, Gruden G (1994)
Trattamento del paziente diabetico in caso di intervento chirurgico.
https://iris.unito.it/handle/2318/119526
Cavallo Perin P, Gruden G (1994)
Coma nel diabetico.
https://iris.unito.it/handle/2318/121883
Gruden G, Cavallo-Perin P, Romagnoli R, Ruiu G, Pagano G (1994)
Plasma beta-thromboglobulin and platelet factor 4 are not increased in insulin-dependent diabetic patients with microalbuminuria.
https://iris.unito.it/handle/2318/120828
Gruden G, Olivetti C, Romagnoli R, Frezet D, Cavallo Perin P, Pagano G (1994)
Trombomodulin is increased in microalbuminuric insulin dependent diabetic patients.
https://iris.unito.it/handle/2318/120353
Gruden G, Cavallo-Perin P, Romagnoli R, Olivetti C, Frezet D, Pagano G (1994)
Prothrombin fragment 1 + 2 and antithrombin III-thrombin complex in microalbuminuric type 2 diabetic patients.
https://iris.unito.it/handle/2318/120417
CAVALLO-PERIN P, BRUNO A, SCAGLIONE L, GRUDEN G, CASSADER M, PAGANO G (1993)
Feedback inhibition of insulin and glucagon secretion by insulin is altered in abdominal obesity with normal or impaired glucose tolerance.
https://iris.unito.it/handle/2318/29739
Gruden G, Bazzan M, Stella S, Pagano G, Pileri A, Cavallo-Perin P (1993)
Microalbuminuria in insulin-dependent diabetes is associated with high levels of prothrombin fragment 1 + 2.
https://iris.unito.it/handle/2318/120418
Gruden G, Cavallo Perin P, Bazzan M, Stella S, Bruno A, Pagano G (1993)
Haemostatic alterations in microalbuminuric insulin dependent diabetic patient.
https://iris.unito.it/handle/2318/119269
CAVALLO-PERIN P, CHIAMBRETTI A, CALEFATO V, TOMALINO M, CECCHINI G, GRUDEN G, PAGANO G (1992)
Urinary excretion of glycated albumin in insulin-dependent diabetic patients with micro- and macroalbuminuria.
https://iris.unito.it/handle/2318/29830
CAVALLO-PERIN P, BRUNO A, CASSADER M, CESCO L, GRUDEN G, PAGANO G (1992)
The glucoregulatory and antilipolytic actions of insulin in abdominal obesity with normal or impaired glucose tolerance: an in vivo and in vitro study.
https://iris.unito.it/handle/2318/29740
Gruden G, Pasetti V, Estivi P, Bruno A, Pagano G, Cavallo Perin P (1992)
Albumin excretion rate in non diabetic offspring of type 2 diabetic patients.
https://iris.unito.it/handle/2318/120422
GRUDEN G, BRUNO A, ESTIVI P, FERRERO R, PAGANO G, CAVALLO-PERIN P (1991)
Albumin excretion rate is not increased in atherosclerotic patients with peripheral vascular disease.
https://iris.unito.it/handle/2318/29700
Tag: Diabetic nephropathy, Diabetes, Diabetic Complications, Albuminuria, Glomeruli, Kidney, Podocytes, Mesangial Cells, Endocannabinoids, miRNA, Inflammation, Exososomes